And now for something completely different!
Most of my chats have been a little more serious. Career and study advice. So, I thought we needed to lighten the mood a little!
I came across a video from these gents and contacted them, they were good enough to do a chat with me (apparently because it was in lockdown and they had nothing better to do!)
It's really good to hear from people who have different journeys, hear their stories and challenges. We had loads of laughs, I hope you enjoy!
(If you enjoyed this, want us to chat about something else, or want more of these types of chats, please leave a comment at the bottom of the post)
Take a look at the Table of Contents above to see what we chatted about. You can go straight to the topics you're interested in
Introducing the Ignorant Millenials
Their name, not mine!!!
I chatted to:
Daniel Makgonta – A software developer with a computer science degree

"I am surrounded by a whole lot of CA's. I feel like I am one myself" 

Katlego Ramashala – An IT business analyst with an accounting degree from Wits.

"I am a thirty year old virgin."

Lancelot Makhubela – A CA(SA) working for government with an accounting honours degree from University of Pretoria.

"Bekezela" in translation "Hold on"
What was your biggest expectation gaps at work?
We all have ideas of what the workplace will be like.
From realising that working a photocopy machine is tricky, to the bigger things, like not making the money you expected. We chatted about stuff that didn't quite work out the way you expected.
"What was your "OH CRAP" moment!?"
Problem solving, not getting training on everything you do
Earning expectation gaps, the idea of auditors being a 'corporate policeman'
Learning cycle and you start at the bottom, regardless of what studying you've done
So many other things outside your technical skills that you need to learn (people's skills)
Meetings and email
Networking
Where's my office?!
You only use a small portion of what you've studied
Why did no-one teach me about Emotional Intelligence!?
No one teaches you how to have those tough conversations, dealing with challenges and frustrations and people. 
You think that once your studies are over, your stress will be gone… SPOILER ALERT!!!
Have you reached that "I am now successful" moment?
When we start studying, we create those 'success' points. "When I reach xxx, I'll feel like I've made it!". 
Then you get there, and you often find that the goal posts have already moved. For those who are still trying to qualify, you feel that the pinnacle of success will be the day you qualify. 
It's important to celebrate your successes. It's really easy to keep looking at something in the future, and this also means that you're never really 'proud' of or satisfied with where you are.
Honestly, for most people 'success' is symbolised by STUFF. When you can get The Car, or the house, or afford stuff.
I find this a little sad, because there's ALWAYS more, bigger, better STUFF you can have, and often it's an external symbol to impress others, and to quietly let others know that you've 'arrived'.
To be fair, we also KNOW that other people ARE watching us and measuring whether we're successful based on our STUFF (enter 'debt'!). We chatted about the need for more awareness around financial literacy when you're starting out.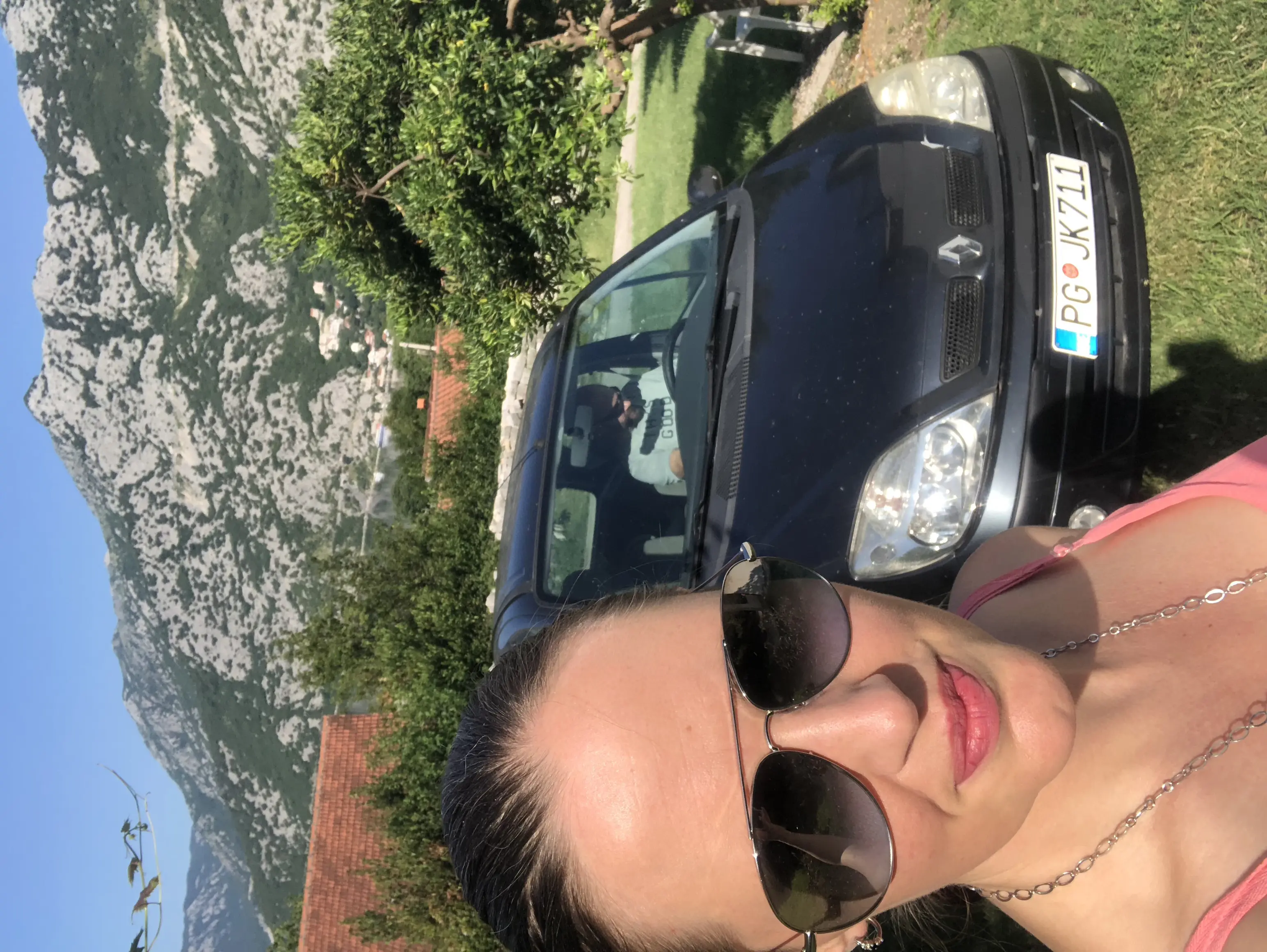 Our 2004 Renault 🙂
We spoke about cars and getting into debt for it, and the expectations of others. In Montenegro, NO ONE cars what you drive!
The gents pride themselves on being 'open' and prepared to discuss anything (If you check out their YouTube channel, you can check out some of their interesting discussions!) So I tested them! We chatted about marriage, and money!
We chatted a little about the 'ballpark' figures for newly qualified CA(SA)'s.
Your salary also will depend on where you decide to work. 'Market-related' rates don't always apply if you're joining a smaller company that just can't afford that, and if that's your dream. I shared my experience with this, and I did take a salary cut for this.
Were there times you thought you weren't going to make it?
As a wrap-up question, we discussed whether there were times that they felt that they weren't going to make it. Those tough times that you can't see past. 
Everyone has them, and sometimes, hearing that other people have been through something similar, helps us gain perspective that this is temporary, not permanent!
(I shared my post-qualification journey here, with a bunch of challenges I've had, and tough stuff as well, in case that helps)
Last thoughts from the gents
I asked them what books they'd recommend others to read, here's their list:
Daniel Makgonta
Lancelot Makhubela 
Thanks to the guys for sharing all this!