What's in this article and videos?
The future of the Accounting Profession
Will Accountants be obsolete in the near future? Is there a future for someone who wants to pursue an Accounting profession?
This is a huge topic with a lot of viewpoints, concepts and ideas to discuss. As a starting point for this discussion, I chatted to Andrew Horsfall CA(SA), from CA Connect, Milpark about some of his thoughts on this topic.
I chatted to Gareth Olivier from CA Connect a while back, you can see that chat here if you want more info about CA Connect
I've broken our video chat into the different topics we covered.
Introduction: Andrew Horsfall CA(SA)
Andrew is the head of Management Accounting and Finance at CA Connect, here's nn introduction to Andrew, his qualification, background and career in education.
Is Accounting becoming obsolete?
Will computers take over accountants' jobs? Will accountants have work in the future? Will the world still need accountants? What will accountants' jobs look like in the future? What skills will become more important and less important?
Whose responsibility is it to provide / obtain the skills you'll need in the future? Should we wait until we've finished studying before we work on this?
A lot of topical questions, we chatted a bit about this.
"Focussing on the technical stuff only means you're trying to be a bad computer"
SAICA has an interesting article in the Accountancy SA magazine in the February 2020 edition. "Machine learning and implications for Accounting"
I wrote an article a while ago on technical vs professional skills that you can look at as well
Will the current CA qualification process create future-ready CA(SA)'s?
Are students who are studying for their qualification now being taught what they need for their future profession?
Are Accountant stereotypes true? And helpful?
There are some really well-known stereotypes around Accountants. I've often found that students feel they should strive to meet these stereotypes because it will make them better accountants. Are these stereotypes true, and more importantly, will they help?
What subject would you add to the syllabus if you could?
I asked Andrew what subject / topic he would add to the syllabus to help students prepare for their future careers.
In this video we also chat a little about the technology CA Connect uses to reach their students online, and the way that the changes in technology have helped them reach more students, and from any location. A little behind-the-scenes to the stuff that online students sometimes take for granted!
Leave a comment
Leave a comment below if you want to explore related topics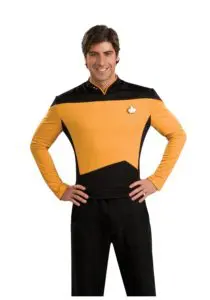 Not planned… I promise!
After my chat with Andrew, my hubby pointed out that my shirt reminds him of the Star Trek uniform. (Pic for reference). He thought I planned this, since the topic we were discussing was 'future-based'.
First… I disagree with him. Second… it was NOT planned! lol