Are you a perfectionist?
Many Accounting students tell me they're DEFINITELY not perfectionists, because they don't get great marks. They don't get distinctions for all their Accounting studies, so clearly they can't be perfectionists!
That's not what a perfectionist really is. Even if you land up getting bad marks, your underlying personality can still be perfectionist. It's about the way you approach things, see yourself and your efforts, and how you assess the outcome of the stuff you've done.
Take this quick quiz to see whether you're a perfectionist. Then read on.
Watch this…
How does perfectionism affect your Accounting studies?
I'm a perfectionist myself. I struggled with feeling 'stupid' through all my studies. You can read about my 'stupid' journey here
So many students tell me that their perfectionist personalities got them where they are. It seems that being a perfectionist is a good thing, because it means you strive for more, work harder, aim for greatness.
But be careful! Here are some reasons it can be dangerous for your accounting studies, and your career!
You feel like a failure if you don't get it all right
Are you're setting yourself up for misery?
Even if you've put a lot of effort into something, you're generally so hard on yourself that you will still see yourself as a failure if you don't achieve the task perfectly.
This is a horrible way to live your life and adds a huge amount of stress to your studies and career! You will probably set very high standards, perhaps even unreachable goals for yourself… then beat yourself up when you don't achieve them.
Fear of failure can prevent you from challenging yourself
Would you rather not try, than try and fail?
If you focus so intensely on getting things 'right', there's a good chance that you won't take risks doing something new and scary.
If you fear looking or feeling 'stupid', you will avoid situations that can possibly put you in that position. You may be turning down opportunities to stretch yourself.
Also, since you don't like doing anything 'half-way', you will probably end up doing less. For Accounting students, this often means they delay writing exams or doing practice questions.
Disliking criticism means you struggle to learn from others
You probably criticise yourself enough as it is. Hearing someone else criticise you, even if it's constructive, could just be too much to bear.
Listening to constructive criticism, however, adds a new perspective you may not be aware of, and it's how you learn to overcome your weaknesses and improve.
Consciously, you don't actually think you know it all. You're not arrogant enough to think you have nothing to learn. But in the moment, you're likely to resist it, and shy away from situations that can open you up to criticism.
Again, this can mean that you avoid opportunities to learn and grow. For Accounting students, this often means they shy away from looking for help, or they delay writing exams.
You miss deadlines, because you're not 'ready' yet
Are you not getting through studies on time because you can't let it go?
Your Accounting studies may suffer because instead of competently covering all the sections, you're focusing on a few sections to the point of distraction because you MUST GET IT RIGHT!
Again, I find students delay writing exams because they haven't gotten through all the work as perfectly as they want. They've lost time dwelling on a few areas, instead of getting it right 'enough' and moving onto the next section.
You'll never be satisfied with your achievements
Are you able to enjoy your little victories along your journey?
No matter what you do achieve, you'll generally focus on what you got wrong, which means you can't accept your good points or see yourself as a success.
Instead of giving yourself credit for your accomplishments, you're so busy comparing yourself to others who did better that you feel negative even if you achieved your goal!
Conclusion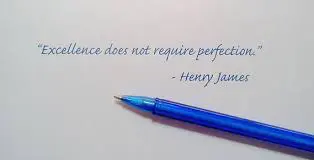 Think about it carefully. Perfectionism isn't about striving for the best. It results in us pursuing and focussing on the worst in ourselves.
Our time isn't spent constructively, and we avoid things that will ultimately lead to our success